Design and Construction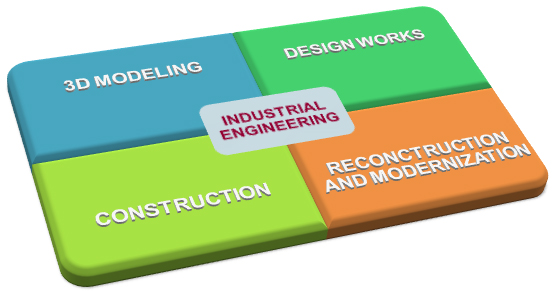 Industrial Engineering as an independent engineering company is a qualified expert and coordinator of subcontractors involved in preparing and implementing projects (efficiency improving).

Experienced specialists of our company and stable partnership with our subcontractors allow us to implement the projects on design and construction of highly efficient and environmentally friendly manufactures on a turn-key basis with guaranteed achievement and preservation of relevant production indicators.

We are ready to

Carry out a complex elaboration of all matters arising during preparation and implementation of the projects.
Conduct study of each project stage, customer needs and process requirements.
Take part of responsibility for the achievement of planned results.

This approach allows to reduce future risks of the projects, provides realistic and fixed terms of the implementation and optimal costs.

Design and Construction works include preparations of:

Project documentation.
Special sections of project documentation.
Information on equipment, internal engineering networks and technical support, list of engineering and technical measures.
Information on external engineering networks and technical support, list of engineering and technical measures.
Surveys of constructions and structures.
Preparatory works.
Earthworks and geodetic works
Layout.
Architectural solutions.
Design solutions.
Technological solutions.
Installation of metal, stone, wooden structures and facilities.
Internal engineering systems and equipment of buildings and structures.
External power grids and communication lines.
External heat supply networks.
Installation of main and auxiliary equipment.
Commissioning.
Projects of environmental protection measures.
Projects measures to ensure fire safety.